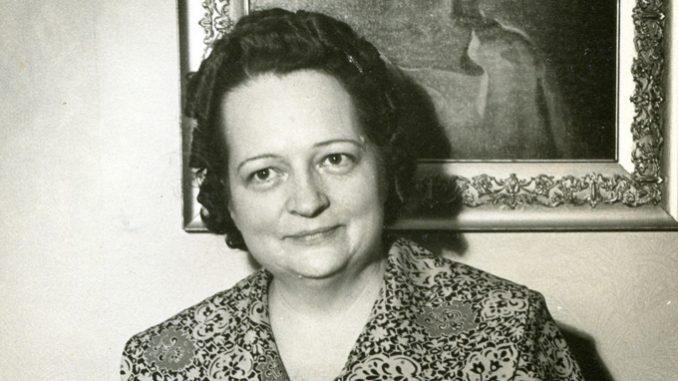 Ever since the 60s, the Santa Cruz mountains have been full of would-be mystics, chasing enlightenment through crystals, yoga, and herbal medicine. But Cora Evans was the real deal.
If you've ever been to the Santa Cruz mountains, you'll agree: it is the perfect place for a hidden mystic. Giant redwoods tower over every home and hillside. A mysterious fog rolls in off the bay many evenings, and clings to the woods well into the morning. By day, the forest teems with birdsong; at night, it is haunted by the voices of owls.
I can picture her perfectly, falling into ecstasy on a perfect summer morning, then again amid a thunderous downpour one winter's night. I can imagine easily the scent of heaven's roses mingling with the bay laurel on a warm autumn evening. I can hear the low tinkling of her washing the dishes, or the clack of her typewriter as she records her latest vision.
Cora Evans was born into a Mormon family in Utah, in 1904. She had her first mystical experience at only three years old, when a beautiful woman appeared to her in a vision. At the time she did not recognize her, but the experience stayed with her throughout her life, and she later realized that she was none other than Mother Mary.
A major turning point came when she and her husband were married in 1924 in the famous Mormon temple in Salt Lake City. Mormon weddings, like all their temple rites, are shrouded in secrecy. The couple was deeply unsettled by the experience and became disillusioned with Mormonism generally. They began a ten-year journey of soul-searching, which must have been quite difficult in the heart of Mormon country, and Cora's search for truth remained unfulfilled for a long time.
Relief came in 1934, when Cora was sick in bed listening to the radio. A Catholic radio program started up. She had already dismissed Catholicism for all the usual reasons but, feeling too sick to get up and turn the dial, she ended up listening to the program all the way through. What she heard contradicted all of the stereotypes she had heard about Catholicism, and soon afterward she found herself at her local Catholic parish, wanting to learn more. Four months later, on March 30th, 1945, she was baptized into the Catholic Church.
In July of 1938, she had an intense mystical experience, an event she later called her "vow day", in which she completely committed her life to God and felt herself to be intimately united with him.
After their conversion to Catholicism (her husband and children entered the Church not long after her), Cora's husband soon found it difficult to find and hold down a job in a predominantly Mormon community. So they made the difficult decision to move to Los Angeles, far from friends and family. It was here that Cora's mystical experiences began to grow in frequency and intensity. She spoke directly with various saints and with Mary. She spoke with God in Aramaic, Jesus' native tongue. She also received the stigmata, a mystical sign of her suffering with Christ.
As her visions intensified, she eventually sought the counsel of the local Jesuits, who assigned her a spiritual director to help guide her journey.
Outside of these visions and the work of recording what she had seen, Cora lived a humble, ordinary life. While certain friends and clergy knew of her visions, they were not widely publicized before her death. She lived at home while her husband supported the family through various odd jobs. One of her friends, in a recent interview, reported noticing the wound in her hand while she was washing the dishes. When he asked her if it hurt, she merely shrugged and answered, "I have to wash the dishes."
Cora died in 1957, in Boulder Creek, after suffering a long time from stomach cancer. She offered her sufferings to God for the conversion of Mormons, whom she always considered to be her people. Her writings were extensive and are still undergoing review and publication, but are known for their deep theological insight and complexity—astonishing, given that she only had a middle school education.
Her cause for canonization was approved by the Vatican in 2013. If canonized, she would become California's second saint.
It was easy to keep the mystics at a distance before I shared a forest with one. There's something weird and, in a way, horrifying about them. In all of the signs which mark their holiness—the stigmata, the foreign tongues, the scent of roses—our everyday reality is torn open to reveal the divine mystery. I've read about other mystics like Cora, but they were safely in the distant past, or oceans away. Cora lived only 7 miles up the road from where I lived, and only 50 years prior. The trees in Santa Cruz live a long time; their presence there with Cora turns them into a kind of relic.
The same redwoods that watched over me, only a year ago, once saw the stigmata of Cora Evans in ecstasy.
I wonder if she was praying for me while I lived among her trees.
I wonder if she haunts the redwoods, like the morning mist.